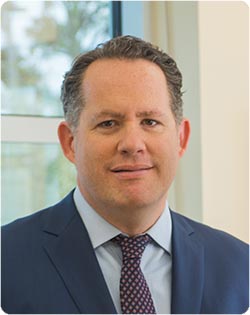 Mitchell D. Terk, MD
Medical Director
Dr. Mitchell Terk is a board-certified radiation oncologist with more than 25 years of clinical experience. He was born in New York and received his undergraduate degree from Emory University, where he graduated Phi Beta Kappa. He graduated from the prestigious Mount Sinai School of Medicine in New York City. Dr. Terk then remained at Mount Sinai, where he completed his residency training in radiation oncology, served as chief resident and was elected to the hospital medical board.
Dr. Terk relocated to Jacksonville, Florida in 1997 and founded what is now one of the largest prostate cancer programs in the world. With more than 10,000 patients treated, Dr Terk is routinely recognized as one of the nation's top prostate cancer specialists, top oncologists, most compassionate doctors, and is a regular patients' choice award winner.
Dr. Terk has published extensive research on prostate, breast, and gastrointestinal cancers. He is an internationally acclaimed lecturer and has presented his research at major medical centers and a myriad of conferences. He has been invited to train physicians throughout the United States, Europe, Asia, and Africa.
His personal interests include the arts, restoring antique automobiles, and travel. He was elected a member of the Explorers Club in 1991. He enjoys spending time with his wife, family, and his recently rescued Australian Shepherd.
EXPERT & EXPERIENCED: TALK TO A BREAST CANCER TREATMENT EXPERT
Get a second opinion on your breast cancer treatment options from Florida Center for Breast Conservation, your breast cancer treatment experts.